Samurai Shodown is a 1994 fighting game released on the
Sega Genesis
.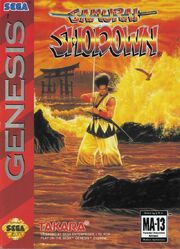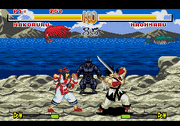 Mark said that he usually doesn't like games with misspelt titles such as
Dead or Alive: Xtreme 2
. He said he picked it up to review an obscure game. He compared it to Street Fighter II. He said he liked the graphics and the special moves. He noted that it wasn't very violent or gory, and he also liked the locations in the game and the fact that you could fight your own character. He liked the points system, but also noted the slowdown present in the game. He recommended it.

Ad blocker interference detected!
Wikia is a free-to-use site that makes money from advertising. We have a modified experience for viewers using ad blockers

Wikia is not accessible if you've made further modifications. Remove the custom ad blocker rule(s) and the page will load as expected.