Sega CD Case & Mega Foam Insert explains the packaging for the
Sega CD
discs.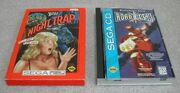 Mark said the Sega Genesis was great by itself, but Sega tried to make it last longer, with add-ons such as the Sega CD. He notes that there are two different consoles. He notes that Sega must have thought that bigger is better. He said his favourite part is the "foam thingy". He said the games discs themselves weren't that exciting. He did say that the cases can shatter easily.
It is interesting to note that this review made it into Smosh's Rediculously Awful YouTube Reviews 8 Rediculously Awful YouTube Reviews.
Ad blocker interference detected!
Wikia is a free-to-use site that makes money from advertising. We have a modified experience for viewers using ad blockers

Wikia is not accessible if you've made further modifications. Remove the custom ad blocker rule(s) and the page will load as expected.