The Sega Dreamcast is a video game system released in 1999 in America & Europe (1998 in Japan) by Sega. It lasted until 2001. It was killed by the PS2 and the company's wrong market decisions.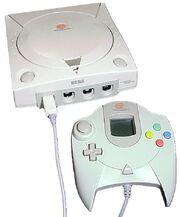 The system was never reviewed by the team, but they did have a fondness for it, as they would often pick games for the system rather than their PS1/N64 Counterparts. They called it the best system however.
Mark has reviewed three different versions, The normal white one, the Sega Sports Black model and the Japanese Yukawa Box Edition.
Ad blocker interference detected!
Wikia is a free-to-use site that makes money from advertising. We have a modified experience for viewers using ad blockers

Wikia is not accessible if you've made further modifications. Remove the custom ad blocker rule(s) and the page will load as expected.