Mark
shows us the different variaties of
Sega Genesis
Cartridge Design.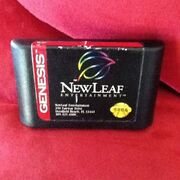 Mark says that he recently reviewed the Odyssey² cartridge design, but now he's going to review the Genesis Cartridges. He said the only problem was when stacked them the titles were upside down. He shows us the cartridges for MUSHA, Mega Turrican, Herzog Zwei, Revenge of Shinobi, Fire Shark and Strider. He shows us the Case for such games as Cyborg Justice. He also showed us EA games such as NHL Hockey '91, which had a yellow thing on the side. He likes them. At the end he defaces Heavy Nova.

Ad blocker interference detected!
Wikia is a free-to-use site that makes money from advertising. We have a modified experience for viewers using ad blockers

Wikia is not accessible if you've made further modifications. Remove the custom ad blocker rule(s) and the page will load as expected.