The Sega Genesis Model 2 is a 1994 Games console made by Sega.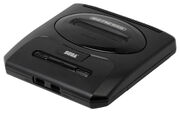 Mark
said that if the
Sega Genesis Model 1
was too big for you, you could get this slimmer Model 2 unit. He notes that the controller ports are centered and that controllers all work on each other. He tells us that the Model 1 power supply doesn't work on it. He notes that it doesn't have the headphone jack on the front so you don't get Stereo audio. He also said that the AV cables are different. He also said it works with the
Sega CD
and
Sega 32X
, but the cable for that is easier to find for this one. He recommends it.
Ad blocker interference detected!
Wikia is a free-to-use site that makes money from advertising. We have a modified experience for viewers using ad blockers

Wikia is not accessible if you've made further modifications. Remove the custom ad blocker rule(s) and the page will load as expected.