The Sega Master System Controller is a 1986 Controller released for the
Sega Master System
.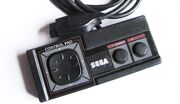 Mark said that it was smaller than the NES controller. He said the D-Pad was comfortable to use. He said because it used the same plug as the Atari controllers it will work on them. He said he prefers the Genesis controller. He also said it matches the Master System design perfectly. He recommends it.
Ad blocker interference detected!
Wikia is a free-to-use site that makes money from advertising. We have a modified experience for viewers using ad blockers

Wikia is not accessible if you've made further modifications. Remove the custom ad blocker rule(s) and the page will load as expected.