The Sega Power Base Converter is a 1989 console that requires the
Sega Genesis
to run.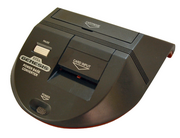 Mark said that if you want to play Master System games you can buy this thing. He notes that it has a door to protect the pins. He said they left a hole so you can see if the system is on, it has a card input and a pause button because Master System did not have the pause buttons on the controller. He noted that it didn't require any extra power supplies. He also noted you can use both controllers, the Genesis and Master System ones. He recommends it.
Ad blocker interference detected!
Wikia is a free-to-use site that makes money from advertising. We have a modified experience for viewers using ad blockers

Wikia is not accessible if you've made further modifications. Remove the custom ad blocker rule(s) and the page will load as expected.