Smash Cars is a 2009 Racing game released on the
Playstation 3
.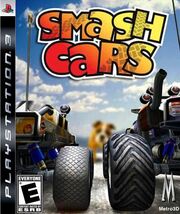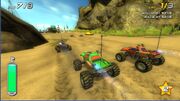 Mark
said that it's like
RC Pro Am
. He said it also reminds him of
Fatal Inertia
. He praised the controls. He said the entire point of the game is to jump your car as far as possible, while winning the race. He also said it wasn't very realistic. He noted it was also similar to
Burnout Paradise
, as you need to find shortcuts. He said it has online multiplayer. He recommended it.
Ad blocker interference detected!
Wikia is a free-to-use site that makes money from advertising. We have a modified experience for viewers using ad blockers

Wikia is not accessible if you've made further modifications. Remove the custom ad blocker rule(s) and the page will load as expected.