Sonic Adventure is a 1999 Platformer released on the
Sega Dreamcast
.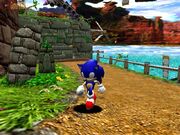 Mark
said that it is very creative. He said you want to have multiple playthroughs. He also said that it feels like an arcade game. He praised the level designs. He said that the controls are fidgetity. He also said you don't go from point A to point B. He noted that movie based games seemed to have copied it's gameplay style. He said the graphics are okay. He also said it's very easy to find and affordable. He recommended it.
Mark said that it is packaging done right. He said the game is complicated, but the image is simple. He also said the back of the packaging is very complicated. He noted that the disc is pretty bland. He then sees a insert for Sega Bass Fishing and Flag To Flag. He said the manual tries to explain everything. He recommends it.
Ad blocker interference detected!
Wikia is a free-to-use site that makes money from advertising. We have a modified experience for viewers using ad blockers

Wikia is not accessible if you've made further modifications. Remove the custom ad blocker rule(s) and the page will load as expected.