Space Channel 5 is music game released in 2000 for the Sega Dreamcast.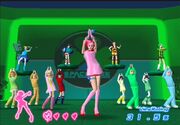 The Game Room reviewed Space Channel 5 on the 30th June 2000.
Mark
said it was like the game Simon Say's.
Dave
said it was a very unique game, and it was the first game of this type that he played. Mark said the designers had to be on crack due to the boss designs.