Space Invaders '91 is a 1991 Arcade game released on the
Sega Genesis
.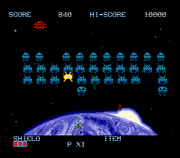 Mark
said that it looks wonderful. He said it's very easy for the first two rounds, but then becomes very challenging. He also said the gameplay is pretty much unchanged. He noted that you were being timed. He said it wasn't the most affordable game on the system. He liked the weapon powerups. He said many levels have simpl touches that really make up the gameplay. He recommended it.
Ad blocker interference detected!
Wikia is a free-to-use site that makes money from advertising. We have a modified experience for viewers using ad blockers

Wikia is not accessible if you've made further modifications. Remove the custom ad blocker rule(s) and the page will load as expected.