Super Mario Kart is a 1992 Racing game released on the
Super Nintendo
.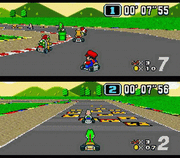 Mark
said that he never played it when he was younger. He recommends it for anyone who has not played it. He said that you collect coins increase your speed. He also said it takes a while too reach top speed. He notes that every character handles differently. He wants the feather in the newer games. He said it will cost you some money to get it however. He praised the controls. He recommends it.
Ad blocker interference detected!
Wikia is a free-to-use site that makes money from advertising. We have a modified experience for viewers using ad blockers

Wikia is not accessible if you've made further modifications. Remove the custom ad blocker rule(s) and the page will load as expected.