Surprise is a video where
Mark
shows us what consoles the show has just picked up.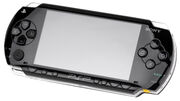 Mark said that the show has invested in a Sony PSP, along with Tenchu Shadow Assassins. He likes the system, but hates the fact that it uses optical media. He then shows us another game system, which he claimss is small. It isn't. It's an Atari 5200.
Ad blocker interference detected!
Wikia is a free-to-use site that makes money from advertising. We have a modified experience for viewers using ad blockers

Wikia is not accessible if you've made further modifications. Remove the custom ad blocker rule(s) and the page will load as expected.