Surround is a 1977 family game released on the
Atari 2600
.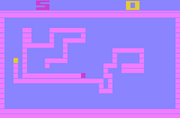 Mark
said that it was a lot like the movie Tron. He said that he liked the gameplay. He noted the inclusion of "Video Graffiti" where you draw on your TV screen. He likes the ability to go through each others line if you go through each other at the same time. He recommends it for parties.
Ad blocker interference detected!
Wikia is a free-to-use site that makes money from advertising. We have a modified experience for viewers using ad blockers

Wikia is not accessible if you've made further modifications. Remove the custom ad blocker rule(s) and the page will load as expected.