Test Drive Unlimited is a 2006 racing game released on the
Xbox 360
.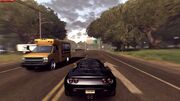 It starts off with a gameplay montage. 
Mark
 then said that the GPS was a lot easier on the ears that in
Ridge Racer 7
. He said it was huge sleeper hit. He then explains the story and says it's more fun than
Forza 2
or
Gran Turismo 5
. He said it's relaxing but also intense. He recommends it.

Mark said that it pretty much went on forever, hence the title "Unlimited". He notes the variety of races, including the Hitchikers. He said there is about 300 different races, and this will earn you a lot of money. He said he likes the online races and the fact you can turn traffic on or off. He did note the fact that the audio was not synced correctly.
Mark said that it had a great selection of exotic cars to drive around in. He did say that it didn't have as many as Gran Turismo 4. He said if you are a car nut you should definitely get the game. He notes you can download extra DLC such as the Lamborghini Countach and Motocycles. He recommends it.
Ad blocker interference detected!
Wikia is a free-to-use site that makes money from advertising. We have a modified experience for viewers using ad blockers

Wikia is not accessible if you've made further modifications. Remove the custom ad blocker rule(s) and the page will load as expected.