The Punisher: No Mercy is a 2009 First-Person Shooter released on the
Playstation 3
.
Mark
said that the main character is not an upbeat guy. He said you never really run out of ammo. He also said it felt like
Goldeneye
and
Timesplitters
. He noted you need to find health packs. He said many people weren't playing it online. He also said he could have done without the one liners. He recommends it.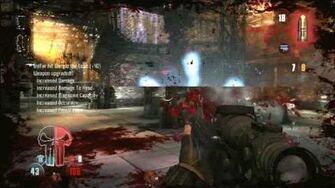 Ad blocker interference detected!
Wikia is a free-to-use site that makes money from advertising. We have a modified experience for viewers using ad blockers

Wikia is not accessible if you've made further modifications. Remove the custom ad blocker rule(s) and the page will load as expected.