The Revenge of Shinobi is a 1989 platformer released on the
Sega Genesis
.
Mark
said that it was one of the best games ever made. He notes that it gives out the backstory at the start. He says it's one of the best side-scrollers ever made. He says it get's everything right. He says that the character sizes are perfect, and praises the control. He praises the music. He says he likes the fence level and the factory level. He notes the copyright infringing bosses. He also likes the superpowers that you can use.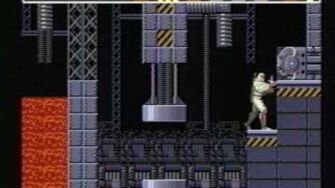 Mark says that one of the best things about 2D games was that they suspended disbelief. He also note the the missile truck is completely useless as a weapon of mass destruction. He notes that if you continue without dying your health meter increases. He also wonders why people explode when they die. He also likes the train level. He notes the spiderman boss level. He notes the different revisions due to these copyright infrigments. He says the later levels are less enjoyable. His favourite end boss is Godzilla. He praises the detail in the graphics. He says that when you take a 2D game into a 3D game it never ends well. He highly recommends it.
Ad blocker interference detected!
Wikia is a free-to-use site that makes money from advertising. We have a modified experience for viewers using ad blockers

Wikia is not accessible if you've made further modifications. Remove the custom ad blocker rule(s) and the page will load as expected.