Toy Commander is a 1999 Action game for the
Sega Dreamcast
.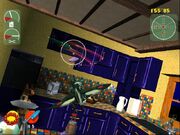 The Game Room reviewed it on the 8th December 1999.
Dave
and
Mark
praised the opening animation. They also noted that it had a 16:9 aspect ration option. Mark didn't like the weapons used in the game, but Dave did. They noted that the frame rate stayed the same during multiplayer. They like the amount of missions and the variety of them. They Recommend it.
Ad blocker interference detected!
Wikia is a free-to-use site that makes money from advertising. We have a modified experience for viewers using ad blockers

Wikia is not accessible if you've made further modifications. Remove the custom ad blocker rule(s) and the page will load as expected.