Transformers 2: Revenge Of The Fallen: Autobots Version is a 2009 Action game released on the
Nintendo DS
.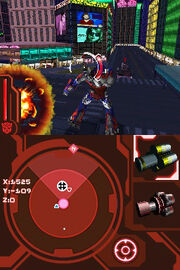 Mark
said that the music was awesome. He said it was fun like the cartoon, but that it carries over the plot from the film. He also said he would be reviewing the
Decepticons edition
too. He liked it because it was very entertaining. He said it was a very sizable game. he also said if you wanted a good looking version, you should get the
Xbox 360 version
. He explains the controls and screen use. He recommends it.
Ad blocker interference detected!
Wikia is a free-to-use site that makes money from advertising. We have a modified experience for viewers using ad blockers

Wikia is not accessible if you've made further modifications. Remove the custom ad blocker rule(s) and the page will load as expected.