Tunnel Runner is a 1983 Arcade game released on the
Atari 2600
.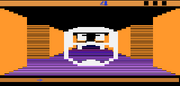 Mark
said that this game pretty much has every Atari sound ever in it. He notes that it's like a first-person shooter released 10 years before Doom. He then reads the instruction manual. He also notes that the game has more RAM which makes the first-person view possible. He says if you see it in a garage sale you should pick it up. He then makes up a plot to the game. He recommends it.
Ad blocker interference detected!
Wikia is a free-to-use site that makes money from advertising. We have a modified experience for viewers using ad blockers

Wikia is not accessible if you've made further modifications. Remove the custom ad blocker rule(s) and the page will load as expected.