Turok: Dinosaur Hunter is a 1997 First-Person Shooter released on the
Nintendo 64
.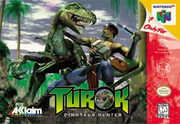 Mark
said that he paid $1 for it. He said it was more of an adventure game. He also said that was huge, with good shooting action. He did not praised the level design. He likes the onscreen map as it is very helpful. He doesn't like the music. He said it's still playable today. He also said the controls weren't bad. He recommended it.
Ad blocker interference detected!
Wikia is a free-to-use site that makes money from advertising. We have a modified experience for viewers using ad blockers

Wikia is not accessible if you've made further modifications. Remove the custom ad blocker rule(s) and the page will load as expected.