Turret Wars is a 2009 Action game released on the iPod Touch.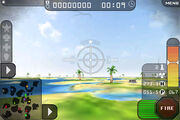 Mark
said that it was like a 3D version of
Air Sea Battle
. He said it was like a first-person shooter, but you cannot move. He also said it was a fun game but very challenging. He noted it was easy to pick up and play. He gives tips on how to find enemies. He said you can play it in real time or in turn based mode. He recommended it.
Ad blocker interference detected!
Wikia is a free-to-use site that makes money from advertising. We have a modified experience for viewers using ad blockers

Wikia is not accessible if you've made further modifications. Remove the custom ad blocker rule(s) and the page will load as expected.