Vanguard is a 1981 Multi-directional shooter on the
Atari 2600
.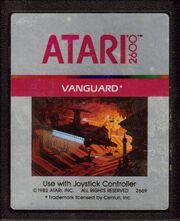 Mark
said that it was the godfather of side-scrolling shooters. He said it was hard to pick up and play after playing modern games because the controls were awkward. He said it was tough, and you don't hold the fire button on the controller to shoot. He said it was a must own for the Atari 2600.
Ad blocker interference detected!
Wikia is a free-to-use site that makes money from advertising. We have a modified experience for viewers using ad blockers

Wikia is not accessible if you've made further modifications. Remove the custom ad blocker rule(s) and the page will load as expected.