The Vectrex is a 1982 games console released by GCE.
Mark said that it was pretty large. He said it was it's own TV set. He notes the Controller plugs in the frront of the system, and can be hidden in there. He shows us the game packaging. He tells us it comes with Mine Storm and it uses overlays. He shows us the packaging, overlay, cartridge and instructions for Berzerk. He says it hums a lot, due to the Vector graphics, which means they are very sharp. He recommended it.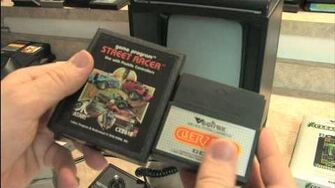 Ad blocker interference detected!
Wikia is a free-to-use site that makes money from advertising. We have a modified experience for viewers using ad blockers

Wikia is not accessible if you've made further modifications. Remove the custom ad blocker rule(s) and the page will load as expected.