Video Olympics is a 1977 Sports game on the
Atari 2600
.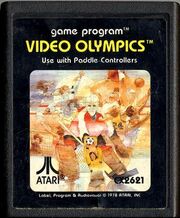 Mark
said that if only the ancient greeks could see this. He notes that it's just 10 different versions of Pong. He says his favourite version of Pong is Ice Hockey. He notes that you really need two players. He also says that Basketball and Volleyball are terrible. He wants it a real olympic sport. He recommends it.
Ad blocker interference detected!
Wikia is a free-to-use site that makes money from advertising. We have a modified experience for viewers using ad blockers

Wikia is not accessible if you've made further modifications. Remove the custom ad blocker rule(s) and the page will load as expected.