Virtua Cop is a 1995 Arcade game released on the
Sega Saturn
.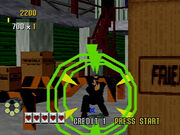 Mark
said that it was from Yu Suzuki, the guy who created
Out Run
and
Hang On
. He said it was fun. He also said every time you play it's the same thing. He said it starts off easy and then gets harder. He likes the music. He recommends it.
Ad blocker interference detected!
Wikia is a free-to-use site that makes money from advertising. We have a modified experience for viewers using ad blockers

Wikia is not accessible if you've made further modifications. Remove the custom ad blocker rule(s) and the page will load as expected.