Warhawk is a 2007 Third-Person shooter for the
Playstation 3
.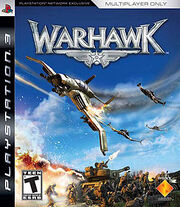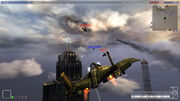 The review starts of with a montage of gameplay. 
Mark
said that he didn't expect the game to be good after hearing other reviews of it. He said it reminded him of
Star Wars Battlefront
. He also said it was equal to
Halo 3
in online fun factor. He said that when he started he sucked really bad at the game, but later in the game he was kicking ass. He also thought he wouldn't enjoy the Tanks and Troopers. He praised the graphics and audio, but didn't like the amount of maps and expected more as DLC. He also liked the games sense of humour. He also said that there was lots of people playing the game online. He recommended it.
Ad blocker interference detected!
Wikia is a free-to-use site that makes money from advertising. We have a modified experience for viewers using ad blockers

Wikia is not accessible if you've made further modifications. Remove the custom ad blocker rule(s) and the page will load as expected.