Wii Sport Resort is a 2009 Sports game released on the
Nintendo Wii
.
Mark
said that it contains more Sports than the original. He said he feels dissapointed with the game, because in the orginal,
Bowling
and
Golf
were the best, and they still are on here. He also explained his controls for many of the Sports. He lked the Swordfighting (in two player) and Table Tennis. He praised Frisbee and Frisbee golf, but said the controls are a bit off. He said that Waveboarding looked good, but was very boring. He also said that Archery was his third favourite game on the disc. He recommended it.
Mark said that the skydiving was awesome. He said he is more impressed than he was in the first part of the review. He also said it's good for families. He liked flying the plane around. He said the biking is fun, and then explained the controls for it. He also liked the canoing. He noted many of the sports were like Dead Or Alive: Xtreme 2. He said the basketball was boring. He also said the golf was bigger and better. He recommended it.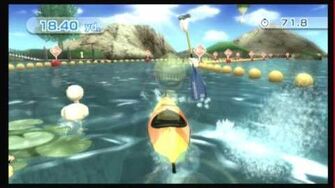 Ad blocker interference detected!
Wikia is a free-to-use site that makes money from advertising. We have a modified experience for viewers using ad blockers

Wikia is not accessible if you've made further modifications. Remove the custom ad blocker rule(s) and the page will load as expected.