The Wii Zapper is a 2007 controller released for the
Nintendo Wii
.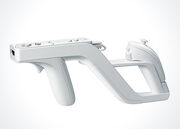 Mark starts of by showing us the NES Zapp, but it won't work because we don't use CRT Televisions much anymore. He said it was just moulded plastic and came with Link's Crossbow Training. He then shows us how to plug it in and how it works. He said you don't actually need it. He recommends it.
Ad blocker interference detected!
Wikia is a free-to-use site that makes money from advertising. We have a modified experience for viewers using ad blockers

Wikia is not accessible if you've made further modifications. Remove the custom ad blocker rule(s) and the page will load as expected.