Xenophobe is a 1989 platformer released on the
Atari 7800
.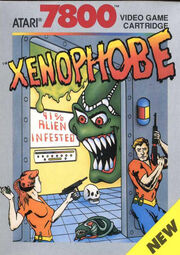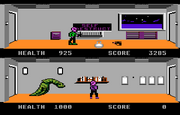 Mark
said that it gets the award for the most depressing music. He said that the controls sucked. He noted that you have no button to jump. He said that people are probably more familiar with the
NES version
. He said the colours were muted and the graphics looked horrible. He liked the artwork on the box and the starting screen. He also noted that this version gives you different difficulties. He said it's only for collectors now.
Ad blocker interference detected!
Wikia is a free-to-use site that makes money from advertising. We have a modified experience for viewers using ad blockers

Wikia is not accessible if you've made further modifications. Remove the custom ad blocker rule(s) and the page will load as expected.